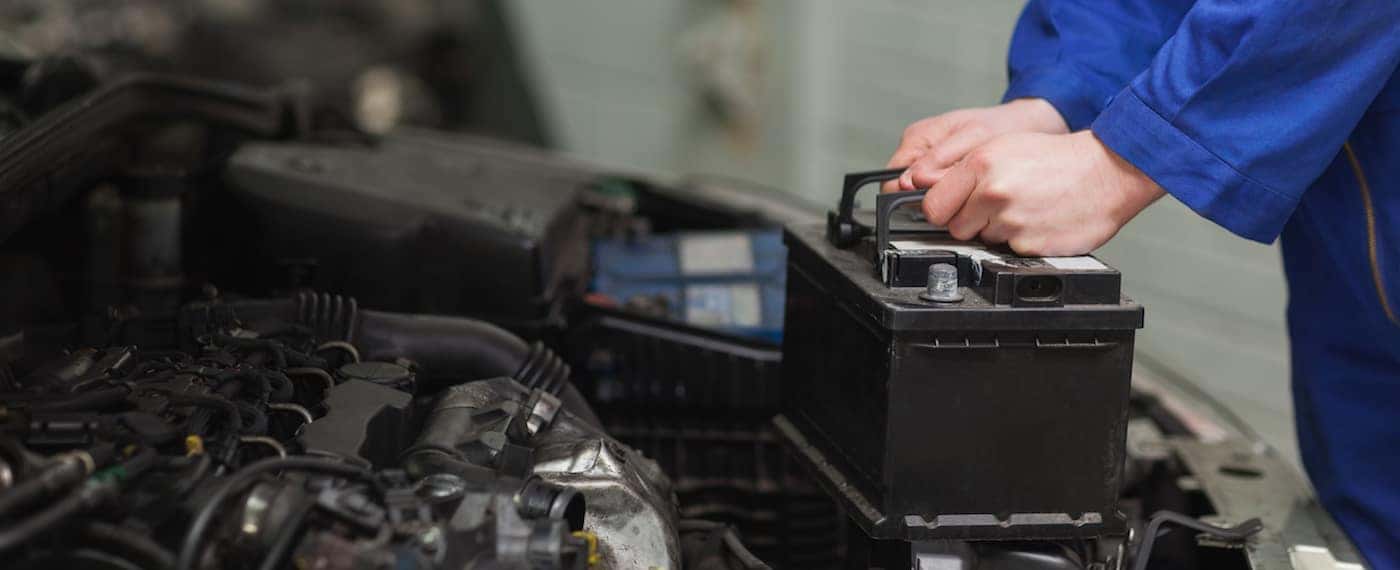 What is the average Mercedes-Benz battery life? The majority of experts say that Niagara and Niagara-on-the-Lake drivers should receive a Mercedes-Benz battery change every 4 to 5 years. That said, there are many factors that play into how often to replace a battery. It's better to learn a few signs to help with determining how to know if your car battery needs to be replaced, just in case it wears out sooner than later.
Read the Performance Mercedes-Benz guide on how often to replace a car battery to get answers to questions like, "When should you change your battery," and "How much is a battery for a Mercedes-Benz car?" We'll also cover topics like how to test a car battery. If you have any unanswered questions about car battery replacement or the benefits of an OEM Mercedes-Benz car battery, don't hesitate to reach out to our service centre in St Catharines for Mercedes-Benz battery service. And don't forget to check out our service specials to see if you can save on your next car battery replacement!
How to Know If Your Car Battery Needs to Be Replaced
Pelham and Grimsby drivers who know how often to replace a car battery can still be caught off guard by a Mercedes-Benz battery that doesn't live a full life. How to know if you need a car battery replacement is a matter of looking out for the following signs of low Mercedes-Benz battery life:
Dimming headlights
More frequent need for engine revving or jump-starts
Takes longer to start the engine when you turn the key/push the button
Unusual power fluctuations
What Causes Car Battery Deterioration?
Heat: Heat can evaporate the liquid inside your car battery.
Vibrations: If the clamps pinning your Mercedes-Benz battery down are loose, or you frequently drive on rough roads, your battery is likely experiencing heavy vibrations, which can cause the internal components of your battery to break down faster.
Needing a Jump: If you've left your lights on overnight or let your engine idle for too long, your vehicle likely needs a jump start. Letting your Mercedes-Benz battery die shortens your Mercedes-Benz battery life significantly each time.
You're now aware of how to know if your car battery needs to be replaced and how often to replace a car battery. Now let's look at how to maintain a car battery.
How to Test a Car Battery
We think it's important for St. Catharines drivers to know how to test a car battery in order to stay on top of its health and identify where it's at in its lifespan. Performance Mercedes-Benz is more than happy to test your Mercedes-Benz battery life at our service centre in St Catharines and provide you with a Mercedes-Benz battery change if necessary. If you're trying to learn how to test a car battery yourself, read on for a step-by-step breakdown:
The Headlight Test: 
Put your car in park, turn on your engine, and then your headlights.
Rev the engine and see if the headlight brightness changes.
If the headlights grow brighter, your current isn't strong enough to sustain the lights at a normal beam while the car is idling.
Take your car to a service centre at this point for further assessment.
Using a Digital Multimeter:
Set your voltmeter to 20 DC volts.
Take your black negative meter probe, open up the hood, and then touch it to the negative terminal (also black) on your battery.
Touch the positive terminal (red) with the positive metre probe (also red).
Have a friend turn on the headlights in your cabin and read the voltmeter.
At 26.7 °C, 12.5 volts means you're fully charged, 12.3 means you're at 75%, and anything lower than 11.8 volts means you have less than a quarter charge.
How Much is a Battery for Mercedes-Benz?
If you think you're due for a Mercedes-Benz battery replacement service, one of the first questions that are likely to come to mind is, "How much is a replacement car battery?".  OEM Mercedes-Benz car battery costs run from between $400 and $700. While they cost a little extra, they're tasked with running a high-performance vehicle outfitted with some of the most advanced driver assistance technologies in the industry. Now that your Mercedes-Benz model features anything from Natural Language Understanding AI to a Hyperscreen, you need a special battery for your car. Mercedes-Benz batteries feature Absorbed glass-mat (AGM), which uniquely positions them to power your technological marvel of a car.
Benefits of OEM Mercedes-Benz Battery Replacements
When you buy your Mercedes-Benz battery from Performance Mercedes-Benz, rest assured that it's the same battery your vehicle was built with at the factory. It's built to stringent Mercedes-Benz standards, meaning it's highly durable and will save you in future replacements. Unlike after-market batteries, OEM car battery replacements don't depreciate the resale value of your vehicle. Furthermore, OEM Mercedes-Benz batteries come backed by warranty coverage and won't void your warranty! There's no reason to buy after-market parts, and this is especially true when you drive a luxury vehicle like a Mercedes-Benz.
Keep Your Vehicle in Top Shape at Performance Mercedes-Benz
Next time you're ready to replace your car battery, reach out to Performance Mercedes-Benz in St Catharines for a Mercedes-Benz battery change. Our mechanics can replace your Mercedes-Benz battery in no time for less than the competition.
While you're here, be sure to check out our parts offers to see how much you might save and explore our parts tips for other helpful reads, including our overview of how often to replace a Mercedes-Benz key fob battery and the difference between the all-season tire and winter tires! We look forward to helping you keep your car in tip-top shape for less!